Key Takeaways:
The number of medical marijuana states in the US has reached 37 as of 2023.
Marijuana remains illegal at the federal level, despite being legalized in many states.
Medical marijuana has numerous health benefits, including reducing anxiety, inflammation, and pain relief.
Each state has its own rules and regulations for obtaining a medical marijuana card.
Some states allow reciprocity, meaning medical marijuana cards from other states are recognized.
There are still a few states that have not legalized any form of marijuana.
Several states have recently passed legislation or are in the process of creating medical marijuana programs.
Legal Status of Marijuana in the US
Marijuana is a complex issue. Despite being legal in many states, marijuana remains illegal at the federal level. This is why all American weed is grown within the country rather than being imported from abroad.
It's also one of the reasons why you still cannot fly with weed, even between two states that have moved to full legalization. You could still be prosecuted as a Schedule 1 drug for possessing and consuming cannabis.
Unfortunately, advice from the U.S. Centers for Disease Control on cannabis hasn't changed in decades because of continuing federal prohibition.
However, states have deviated from the federal stance on marijuana, enabling them to permit the growth and consumption of cannabis within their territories. With so many medical weed states, proponents hope the situation will change in the years ahead.
Following Election Day 2022, an estimated 155 million Americans now live within the medical marijuana state map, which is over half the population.
Importance of Medical Marijuana in Healthcare
Generations of prohibition meant that the medical community was unable to study the positive impacts of medical marijuana legally. However, as states have moved to legalize, research has accelerated, and more positives are being uncovered.
So, why do so many states now have a medical marijuana state registry for those with qualifying conditions? According to WebMD, the answer is cannabinoids, the active compounds in medical marijuana, similar to the body's naturally occurring chemicals responsible for appetite, movement, and pain regulation.
They highlight some of the benefits of medical marijuana, including:
Reducing anxiety
Reducing inflammation
Pain relief
Nausea control
Slow cancer tumor growth
Muscle relaxation
Appetite stimulation
Scientists believe these benefits merely scratch the surface of what's possible and caution that we still don't know the full impact of medical marijuana, particularly in the long term.
Join over 100,000 patients who have chosen Green Health Docs as their medical cannabis doctors. We have a 99% approval rate and offer a 100% money back guarantee!
States with Medical Marijuana Card Programs
Answering, "How many states have legal, medical weed?" only partially answers the question. There's a lack of consistency between medical marijuana states because each state is free to make up its own rules.
For example, California and Colorado offer a tremendous amount of freedom for medical marijuana patients to consume highly potent products. On the other hand, Texas has only recently permitted low-THC products.
Technically speaking, just five states remain that have refused any legalization whatsoever, meaning the chances are that you live in one of the states with medical weed. So, let's discuss how you can qualify for a medical marijuana card.
General Conditions to Qualify for a Medical Marijuana Card
While every state can define its own rules, most have similar conditions for qualifying for a medical marijuana card.
What follows is a breakdown of the most common requirements for someone to join a state medical marijuana program. However, you should double-check the specifics for your state to ensure that you're eligible.
Step One – Check that you have an eligible condition. Some of the qualifying conditions most states agree upon include autism, cancer, multiple sclerosis, Parkinson's Disease, anorexia, and Crohn's disease, among others.
Step Two – Schedule an appointment with your doctor. Depending on where you live, you may need to attend an in-person appointment. Your doctor will review your medical history and recommend medical marijuana if they believe you can benefit from it.
Step Three – The final step is registering with your state's medical marijuana program. Each state has its own platform, which may require you to upload documentation and pay a fee.
Some states make the process easier than others, so your mileage may vary in states with a medical marijuana card.
States that Have Legalized Medical Marijuana:
Medical marijuana states cover the majority of the country. Here's a list in alphabetical order of states that have legalized medical cannabis.
Note that when asking, "How many states have legalized medical marijuana?" this list covers any state that has permitted all types of medical cannabis. It doesn't cover states like Georgia, which only permits CBD oil containing THC.
Alabama
Alaska
Arizona
Arkansas
California
Colorado
Connecticut
Delaware
District of Columbia
Florida
Hawaii
Illinois
Louisiana
Maine
Maryland
Massachusetts
Michigan
Minnesota
Mississippi
Missouri
Montana
Nevada
New Hampshire
New Jersey
New Mexico
New York
North Dakota
Ohio
Oklahoma
Oregon
Pennsylvania
Rhode Island
South Carolina
South Dakota
Utah
Vermont
Virginia
Washington
West Virginia
Currently, nine states have restricted medical marijuana use to CBD oil only, with five states opting for continued prohibition. In addition, some of the states on this list may also have ratified their cannabis laws but have yet to launch their medical cannabis programs formally.
Map of States with Medical Marijuana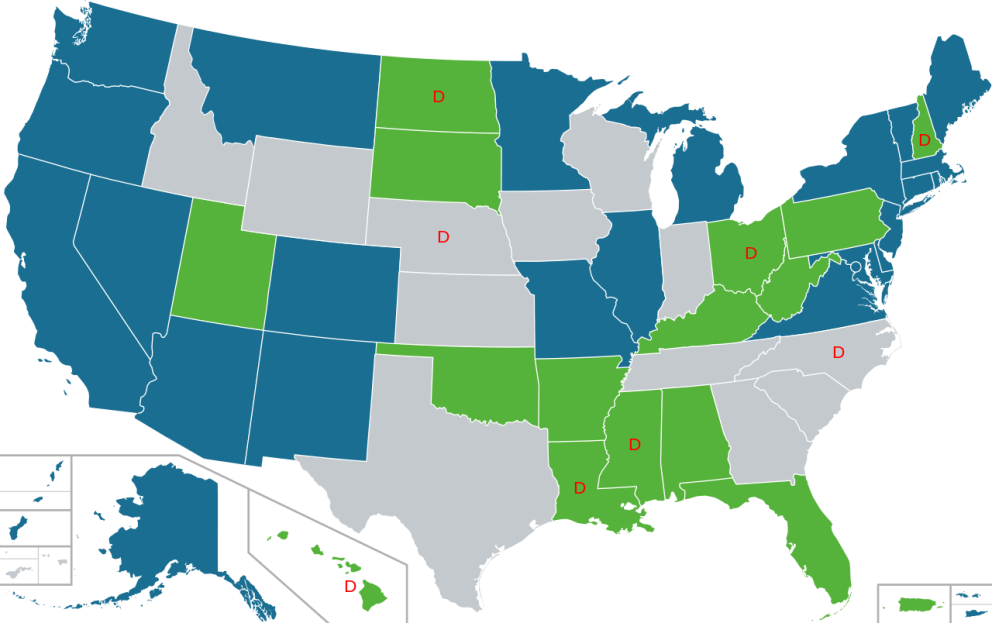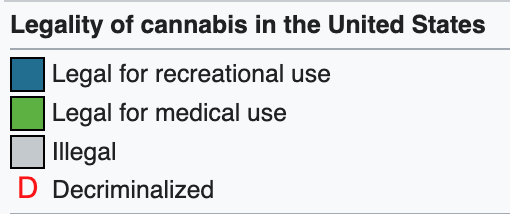 Photo courtesy of Wikipedia
States with Medical Marijuana Reciprocity Programs
One of the quirks among medical marijuana states is that some allow for reciprocity. Medical card reciprocity is a concept that enables state-legal medical marijuana users to buy, possess, and consume marijuana outside of their home states.
So, do medical marijuana cards work in other states?
Again, every state sets its own rules, with some choosing to recognize out-of-state medical cards and others refusing. Some states may even only have reciprocity agreements with a select number of states, further complicating the issue.
What is Medical Marijuana Reciprocity?
Each state sets medical marijuana reciprocity laws. Some enable out-of-state residents to possess but not purchase medical marijuana within their territories, whereas others allow you to walk into any dispensary and purchase your medical weed.
Likewise, every state has its own system for establishing your legal right to possess, purchase, and consume medical weed. Some may require you to purchase a temporary license, whereas others set zero preconditions.
Currently, just 18 medical marijuana states have medical card reciprocity in some form as of September 2022.
States that Recognize Out-of-State Medical Marijuana Cards:
If you're wondering, "Can I use my medical marijuana card in another state?" the answer is you can, but only in the following places:
Arizona
Arkansas
California
Colorado
Illinois
Washington, D.C.
Maine
Massachusetts
Michigan
Montana
Nevada
New Hampshire
Oklahoma
Oregon
Rhode Island
Vermont
Utah
Washington
States Without Any Form of Recreational or Medicinal Marijuana
Most states have permitted some form of recreational or medicinal marijuana, but five holdouts continue their total prohibition of medical marijuana.
While this may be frustrating if you live in one of these states, know that this list has grown increasingly thin recently as other states legalize it, and it becomes more accessible than ever to obtain marijuana within the country.
Note that these states don't include those that allow CBD oil with THC, which would include Wisconsin, Iowa, and Texas.
States that Have Not Legalized Any Form of Marijuana
So, where can you not find any legalized THC products at all?
Idaho
Indiana
Kansas
Nebraska
South Carolina
States with Upcoming Medical Marijuana Programs or Legislation
Although the number of medical marijuana states increasing recently, legalization doesn't mean that patients can apply for a medical card immediately. Instead, there tends to be a waiting period between legalization and a medical cannabis program being established.
In this section, we'll list some of the recent states that have either passed legislation or are currently creating a medical cannabis program.
Alabama
Alabama decided to change its laws and establish the Alabama Medical Cannabis Commission (AMCC) after Governor Kay Ivey legalized medical cannabis in 2021. However, this program will be one of the most restrictive in the nation, with medicinal THC only available as topicals, patches, suppositories, oils, capsules, and lozenges.
Moreover, qualifying patients will need to wait longer to actually receive the right to buy from dispensaries for the first time.
The AMCC expects the first dispensaries to open in late 2023 at the earliest.
Georgia
Georgia is also fighting to expand its medical cannabis program, but political considerations have placed countless roadblocks in the way.
Currently, Georgia only permits cannabis products with a 5% THC cap for medical patients, making it one of the weakest medical cannabis markets in the country. But this will likely change in the coming years as 53% of Georgians said they supported adult-use legalization, providing a slim majority for the relaxation of Georgia's cannabis laws.
Kentucky
Kentucky is one of the newest states to legalize medical cannabis, with SB 47 being signed into law on March 21, 2023. Unfortunately, the letter of the law means that it won't actually take effect until January 2025.
Under the law, registered patients can keep a 30-day supply in their homes and carry a 10-day supply with them at any time. However, the law will not lift the prohibition on home cultivation.
Mississippi
Mississippi is also a newly legal state after the signing of SB 2095 in February 2022. The bill received 74% support from voters, which was also a veto-proof margin, obligating Governor Tate Reeves to sign the bill into law.
Under the law, patients can purchase up to 3.5 grams of cannabis flower, 100 mg of infusions, and one gram of extracted oil.
Home cultivation also remains outlawed under this law.
North Carolina
North Carolina is widely expected to become the next legal state for medical cannabis. Using their status as a sovereign nation, the Eastern Band of Cherokee Indians voted to legalize back in 2021, but it is only from April 20th, 2023, that all tribal members could apply for medical marijuana patient cards, both online and in person.
Previously, the Seed-to-Sale Effort authorized tribal members to grow and harvest their own cannabis, but no formal MMJ card program was available.
Within the rest of the Tarheel State, applications for medical marijuana cards are expected to be processed from June 20th, 2023, but some legal wrangling over regulation remains ongoing. It is expected that, like the tribal plan, applications can be processed online and in person.
Democrats have also produced Senate Bill 346, which focuses on recreational marijuana and decriminalization, but this separate bill is not expected to pass.
Medical Marijuana State FAQs
Can you take medical marijuana out of state?
Many people question, "How many states is medical weed legal in?" and then assume they can carry medical marijuana between two legal states. Unfortunately, because you're crossing a state border, this remains against the law.
Although you may not be caught, and state police may choose to turn a blind eye to people doing this by car, it's still illegal.
Can you buy medical marijuana out of state?
Figuring out how many states legalized medical marijuana also raises the question concerning whether you can use your medical card to buy elsewhere. In some states, this is permitted, but you'll need to check whether a state has medical card reciprocity and, if so, the terms of their programs.
Can you order medical marijuana from another state?
No matter how many states have medical marijuana, no state permits the shipping of cannabis across state lines because of the continuing federal prohibition on the practice.
So, 'Can I order medical marijuana from another state?' in all cases, the answer is no because it's still illegal to transport cannabis across state lines.
FAQs
Can you take medical marijuana out of state?
No, it is illegal to transport medical marijuana across state lines.
Can you buy medical marijuana out of state?
In some states with reciprocity programs, you can use your medical marijuana card to purchase cannabis in other states. However, you should check the specific rules and regulations of each state that has reciprocity.
Can you order medical marijuana from another state?
No, it is illegal to ship medical marijuana across state lines.